Recology provides debris box services and temporary bins for all types of commercial and residential projects, and special events. Use the forms provided below to tell us about your project and select from the debris boxes or containers offered.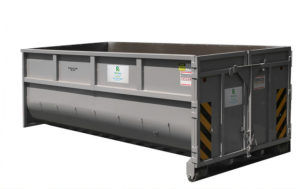 Construction & Demolition: Customers who haul their own construction and demolition (C&D) debris may drop it off at the SF Transfer Station.  Recology is a registered C&D transporter, offering containers in various sizes and flexible scheduling. All mixed C&D debris box loads are taken to the SF Transfer Station and sorted to maximize diversion.
Special Event Collection & Hauling: Planning an event in San Francisco? Recology provides special event recycling, compost, and landfill collection services, from small meetings to large festivals. Learn more about Special Event Collection & Hauling services or request services here.
View debris box dimensions and weight limits (PDF).
No hazardous waste: debris boxes cannot contain hazardous waste, e-waste, universal waste, toxic materials, explosives, fuel, oil, paints, solvents, chemicals, asbestos, tires, refrigerators, air conditioners, computer monitors or televisions.
Materials within the debris box must be distributed evenly and not exceed the rim. If the materials exceed the allotted weight limit, additional charges may apply.
There is an additional $40.00 charge for refrigerators and air conditioning units.
We only accept Visa and Mastercard. NO COD of checks, cashier checks or money orders.
Saturday service is available in limited areas.
Effective 04/16/2021 – Maximum rental period allowed is 14 calendar days.
Once you submit the form below, a Recology staff member will call you shortly to confirm your services and delivery options.  If you prefer to order a debris box by phone or if you have questions about your order, you may reach Recology at (888) 404-4008.
---
Available Debris Boxes
| Volume | Type |
| --- | --- |
| 9YDS3 | Open Debris Box |
| 14YDS3 | Open Debris Box |
| 14YDS3 | Closed Debris Box |
| 20YDS3 | Open Debris Box |
| 20YDS3 | Closed Debris Box |
| 30YDS3 | Open Debris Box |
| 40YDS3 | Open Debris Box |