GOOGLE CAMPUS
City of Mountain View, CA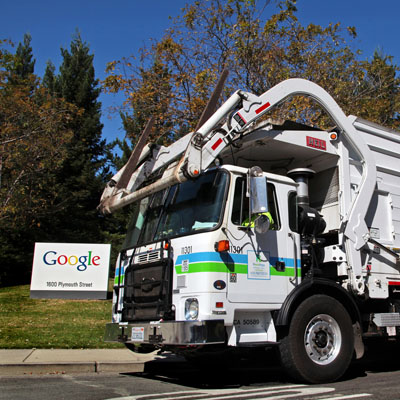 Google employs over 20,000 employees at their Mountain View location. Their offices include large kitchens to accommodate meal prep for all employees.
Partnership
Recology Mountain View's Waste Zero Specialist worked with the sustainability team at Google to identify potential areas where the business could increase their recycling efforts. The goal was to increase compost and recycling participation in order to meet Google Green Initiatives and increase diversion.
Challenge
Google's offices make up about 8% of all commercial business in the City of Mountain View – none of which had compost containers at the time.
BEYOND WASTE Solution
A waste audit revealed that most of their material was organic, and could be composted. Recology proposed introducing compost containers in all eating areas, outdoor event areas, and offices. We conducted educational opportunities for employees and kitchen staff, including presentations, signage, and Google Green staff training.

TODAY
Google now has more compost and recycling bins than they do trash bins – 31% of the materials generated today is compost, and 37% is recycling. Today, diversion is 68%, whereas in 2011 it was 37%.
Recology: A World Without Waste
WINDSOR HEIGHTS
SeaTac, WA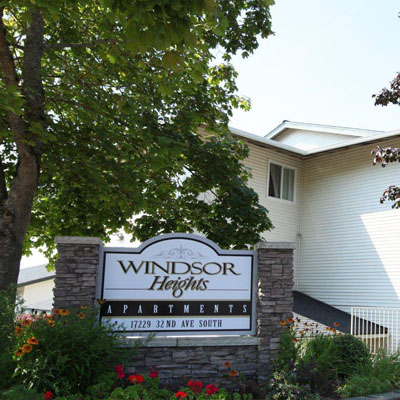 Windsor Heights is a large multi-family property in SeaTac, Washington with a diverse population of residents.
Partnership
Recology CleanScapes worked together with the property management team at King County Housing Authority to ensure that residents had the proper containers to maximize diversion. Our goal was to improve the percentage of waste diverted from the entire property.
Challenge
Upon working together, the property was using 10 garbage dumpsters, but just one recycling dumpster to serve the entire 324 unit site.
BEYOND WASTE Solution
The Zero Waste Team paired every garbage dumpster with a recycling dumpster to instill new behavior.
They also delivered recycling education flyers to each household that were translated based on the the language spoken in the household.
They provided educational opportunities for children in the neighborhood, including a visit to the Recology CleanScapes Material Recovery Facility and The Recology Store.
TODAY
Now, the property uses 9 garbage dumpsters and 11 recycling bins, which resulted in a 35% increase in waste diversion at the site. Because of these results, the property is interested in learning more about compost collection.
Recology: A World Without Waste