Beyond Waste Community Programs
Recology Waste Zero teams provide comprehensive education and outreach services with a goal to inspire sustainable behavior. These teams work closely with local community leaders, tailoring outreach programs to best serve the needs of our customers and communities.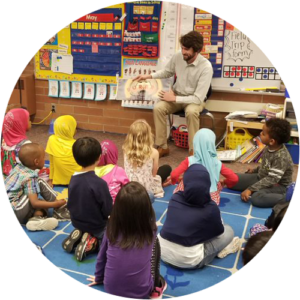 Presentations & Trainings
Waste Zero teams deliver educational presentations in classrooms, lead hands-on trainings for restaurant and janitorial staff, and facilitate discussions in office environments. These services might include recycling games, waste sorting demonstrations, and more formal presentations related to resource recovery and waste reduction. Each year, the Recology Waste Zero teams conduct over 1,500 of these educational programs.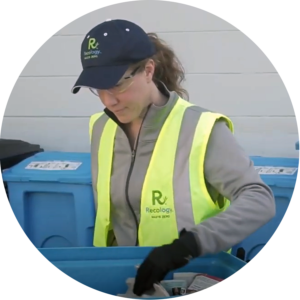 Site Visits & Consultations
Through more than 4,000 comprehensive site visits each year, Waste Zero teams ensure businesses, schools, and apartment complexes are subscribed to appropriate levels of collection service, and that receptacles are properly situated, labeled, and utilized. Results from on-site waste assessments can be consolidated into informative reports that communicate areas for improvement and provide best practice recommendations. In many situations, ensuring appropriate service levels and participation translates to costs savings for customers and more recoverable materials collected.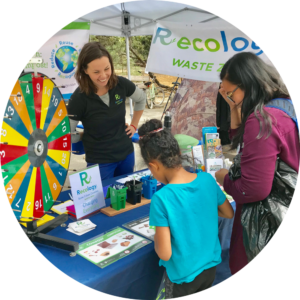 Tablings & Events
Recology is an active participant in community events – including festivals, parades, fairs, and Earth Month celebrations. Waste Zero teams at Recology engage the public at more than 600 events annually, providing information about the benefits of recycling and composting and answering questions about the proper disposal of specific materials, like hazardous or bulky items. Waste Zero teams often come prepared with interactive sorting games and eco-friendly giveaways that promote recycling and waste reduction.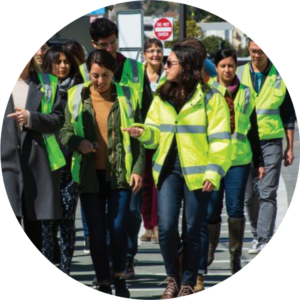 Tours
Seeing is believing. Recology welcomes groups to tour many of our facilities, including recycling and composting facilities, transfer stations, and household hazardous waste facilities to provide an inside look at recovery operations. Recology hosts nearly 300 tours annually for more than 5,000 attendees, including school groups, commercial businesses, community partners, and industry professionals interested in learning more about how their actions impact the recovery process.
Our San Francisco operation provides an extensive tour program at our Environmental Learning Center, a dynamic education center where visitors can learn about what happens to the materials placed in curbside recycling, compost, and landfill bins.