It is illegal to put items such as electronics, batteries, fluorescent bulbs, pesticides, and other chemicals in any of your bins. These items are not recyclable, compostable, nor are they allowed in our landfills.
Household Hazardous Waste Drop Off
The Household Hazardous Waste Facility, located at 501 Tunnel Ave., San Francisco, CA 94134, is open to San Francisco residents Thursday – Saturday from 8 AM – 4 PM. The facility is closed on New Year's Day, Fourth of July, Thanksgiving, the Friday after Thanksgiving, December 25 and December 26.
Residential Home Collection Services
If you have more than one item, you may schedule a free pick-up by emailing [email protected]. You'll be asked to describe the types and amounts of household hazardous waste you have for pickup.
Read more about pick-up requirements and instructions here.
Free pickups are available from Wednesday – Saturday, 8:00 AM – 12:00 PM.
Hazardous waste containers cannot be left outside on the sidewalk, so you must be home.
Priority is given to disabled and elderly residents who do not drive.
We are not currently able to pick up unknown or unlabeled wastes. If you have unknown chemicals, please let us know when you call so we can advise.
Business Very Small Quantity Generator Program (VSQG)
If your San Francisco-based business generates a small amount of hazardous waste (less than 220 pounds per month, or 27 gallons), you may dispose of it through the Very Small Quantity Generators (VSQG) Program. For more information, click here.

BATTERIES
COOKING OIL
MEDICATIONS
PAINT
ASBESTOS
SHARPS
VSQG
BATTERIES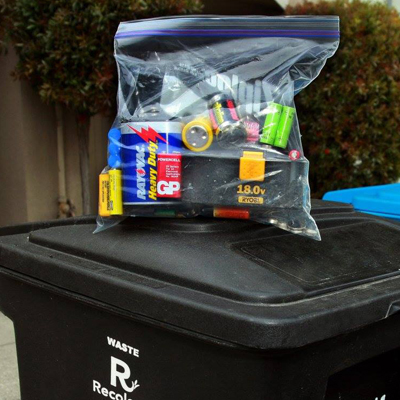 Curbside Battery Collection
Put normal household batteries (e.g. alkaline, rechargeable, disk batteries) inside a tightly sealed plastic bag, and place them on top of your closed landfill bin. Please tape lithium battery terminals or disk sides to prevent accidental fires.
Apartment Battery Bucket Collection
Check to see if your building has an orange battery bucket. If you don't see one in a shared location, contact your property manager to request one.
Property Managers
Let us know you need a battery bucket and we'll deliver a bucket, informational poster, and postcards for you to distribute to your tenants notifying them of the program. When the bucket is full, anyone can call the number on the bucket for a free pickup. Download the apartment/condo battery recycling poster.
Drop Off
Residents can drop off batteries at any Walgreens in San Francisco, most hardware stores, or the SF Transfer Station Household Hazardous Waste Facility. Households and businesses may bring up to five gallons of batteries (about 70 pounds) per month for free to the public disposal area at the SF Transfer Station. More than 5 gallons are charged at a rate of $3.50 per pound.
For safety, please tape over the contact points of each lithium battery. Look for "Lithium" or "Li" (most button and rechargeable batteries).
COOKING OIL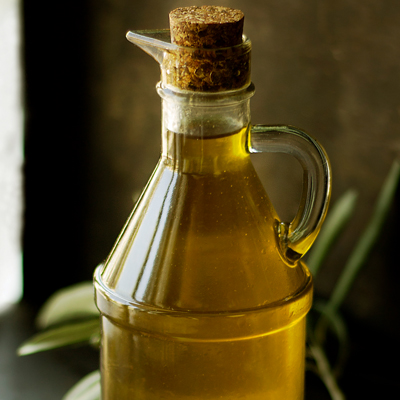 Recovering cooking oil is extremely important since it clogs our City's wastewater systems and can pose a threat to piping. Small amounts of cooking oil can be soaked up with a paper towel and placed in curbside composting collection (green) bin.
Drop Off – SF Residents Only
San Francisco residents can drop off up to 10 gallons of used cooking oil at the Household Hazardous Waste Facility. It is open Thursday – Saturday from 8:00 AM – 4:00 PM. Proof of residency required.
Containers of cooking oil must be no larger than 5 gallons in size (i.e., no large drums). Please make sure your used cooking oil does not contain water, soapsuds, and/or food debris. Limit of 10 gallons/customer.
Businesses, such as restaurants and hotels, can visit the SFPUC webpage on how to manage fats, oil, and grease (FOG) or call the SFPUC at (415) 695-7310 for information on cooking oil disposal options for commercial customers.
MEDICATIONS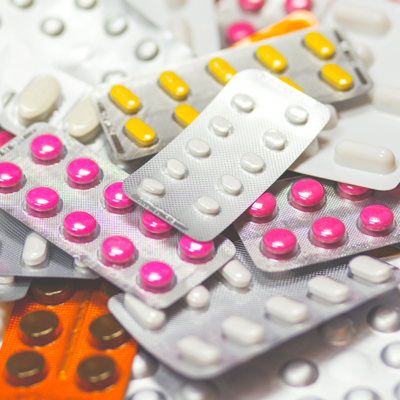 When medications are disposed of in the trash or down the drain, they can find their way into our waterways and negatively impact frogs, fish, and other aquatic life.
Drop off medications for safe handling at any San Francisco police station and select pharmacies. Visit www.sfenvironment.org/medicinedisposal for a full list of medication drop-off locations.
Federal Drug Enforcement Administration rules do not allow us to accept medicine at the Household Hazardous Waste Collection Facility or through our Door-to-Door HHW collection programs.
PAINT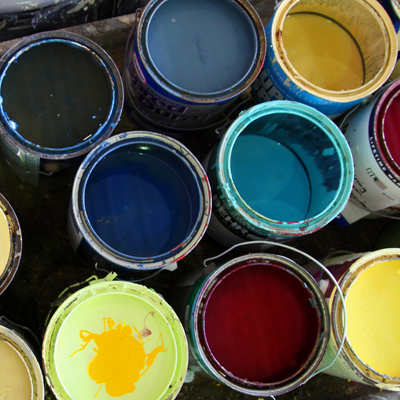 We recycle and reuse most paint that we receive at the Household Hazardous Waste Facility, much of which is offered for free to residents.
Drop off
Drop off up to 5 gallons of paint per resident at the following sites.
Center Hardware, 999 Mariposa @ Pennsylvania: 415.861.1800
Cliff's Variety, 479 Castro St. @ 18th: 415.431.5365
Cole Hardware, 3312 Mission @ 29th St: 415.647.8700
Cole Hardware, 2254 Polk @ Green: 415.674.8913
Cole Hardware, 956 Cole St. @ Parnassus: 415.753.2653
Cole Hardware, 70 4th St. @ Mission: 415.777.4400
Fredericksen Hardware, 3029 Fillmore @ Union: 415.292.2950
Golden City Building Supply, 1279 Pacific @ Leavenworth: 415.441.0941
Roberts Hardware, 1629 Haight @ Clayton: 415.431.3392
Last's Paint Clearance Center, 2141 Mission @ Sycamore: 415.437.0633
You may also drop off paint at the SF Transfer Station Household Hazardous Waste Facility.
Pickup Free Recycled Paint
Our recycled paint is not thinned down, and covers well, as opposed to some new latex paints. Plus, it's free! Recycled paint is given away on a first-come, first-serve basis during regular facility business hours, and you do not have to be a resident or business in San Francisco to receive our paint.
Available Colors:
Warm colors: Sandpiper (beige), Fawn (tan), and Fort Funston (brown)
Cool colors: Sage (green-gray) San Francisco Fog (blue-gray), and Granite (gray)
ASBESTOS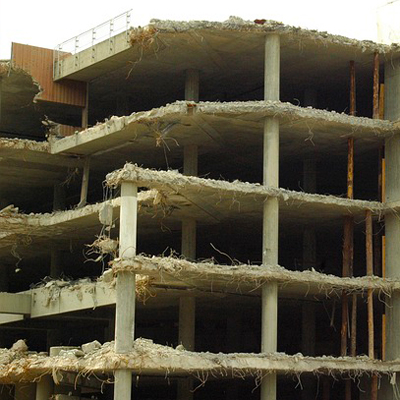 We recommend hiring an asbestos abatement company to safely remove asbestos from homes or businesses. The hazardous particles that are released into the air upon removal are so small that you can't see them, and they can cause serious health problems if you breathe them in.
Drop Off
Once removed, prepare for safe transport and disposal:
Wet the asbestos with water and place it in heavy-duty trash bags, or bags made specifically for asbestos removal. The bag must be at least 6 millimeters thick at a minimum (you can find thick bags or double up). Ducts and pipes must be no longer than 5 feet. If you can't find bags that are large enough, double wrap the ducts and pipes with heavy-duty plastic and duct tape. Each bag should weigh no more than 30 pounds. Write "Waste Asbestos" on each bag.
Small Businesses (generates less than 220 lbs of waste/month):
$0.25/lb; schedule an appointment in advance.
Residents:
Free; limit of 125 lbs/ trip
SHARPS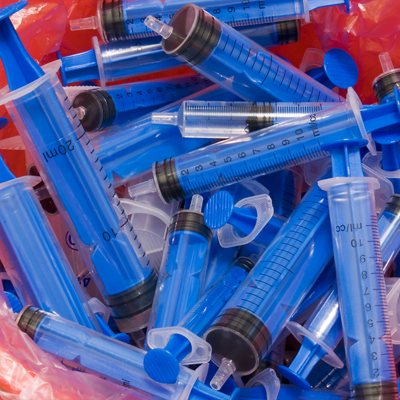 Sharps or needles that are improperly disposed of in the trash or recycling can pose a health hazard to our garbage collectors and our environment. Please properly dispose of sharps using a biohazard container.
Drop Off
Residents with medical conditions requiring the use of hypodermic needles may pick up a free Sharps Container at any Walgreens pharmacy in San Francisco. When it is full, just return it to Walgreens for proper management.
VERY SMALL QUANTITY GENERATOR PROGRAM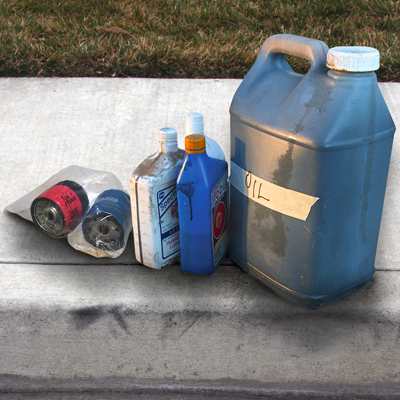 The Household Hazardous Waste facility at the transfer station is authorized to accept hazardous materials from commercial customers in very small quantities.
If your San Francisco-based business generates a small amount of hazardous waste (less than 220 pounds per month, or 27 gallons), you may dispose of it through the Very Small Quantity Generators (VSQG) Drop-Off Program by dropping it off at the SF Transfer Station. The program is designed to save small businesses money on disposal costs and ensure the proper disposal of hazardous waste.
VSQG Drop-off Days are held twice per month, and the number of appointments is limited. Please make an appointment ahead of time to secure a spot. To make an appointment call: 415.330.1425.
The Details:
A VSQG business can dispose of up to 27 gallons of hazardous waste, or one quart, of extremely hazardous waste through this program each month.
State law requires hazardous waste generators to have an EPA identification number prior to participation in the VSQG program. For more information about obtaining an EPA ID number, call Cal-EPA at 800.618.6942.
Local and state laws may require you to get a Certificate of Compliance from the Department of Public Health, Hazardous Materials Unified Program Agency if you generate, treat, or store certain quantities of hazardous materials or waste. Call: 415.252.3900 for information.
Drop-off Rates
Fees for the Drop-off Program depend on the type and amount of waste. These prices are partially subsidized by San Francisco's trash bills.

Waste Type
Fee
Batteries
All types of batteries, alkaline, and rechargeable.
FREE, up to 5 gallons per month
More than 5 gallons: $3.50 per pound
Motor Oil & Car Batteries

FREE
Fluorescent Tubes, Lamps, CFLS
FREE, up to 30 per month. More than 30 tubes/lamps: $3.00 per unit
Asbestos (in 30 lb. bags)
$0.25 per pound
Lead paint chips
$0.50 per pound
Waste in spray cans
$1.00 per can
PaintCare Paint
FREE
Non-PaintCare Paint
$3.00 per gallon
Printing ink
$4.00 per gallon
Solvents
$4.00 per gallon
Mercury Amalgam
$11.00 per pound
Compressor oil
$4.00 per gallon
Flammable solids
$4.00 per gallon; $0.50/pound
Sludges
$4.00 per gallon
Photofixers and developers
$4.00 per gallon
Poisons
$5.00 per gallon; $0.60/pound
Acids and bases
$5.00 per gallon
Oxidizers
$6.00 per gallon
Antifreeze
$1.00 per gallon
Unknowns HHW
$15.00 per gallon
Propane, small (< 1QT)
$1.00 each
Propane, large (> 1QT)
$11.00 each
Ballasts (PCB)
$0.25 per pound