Hazardous waste, including electronic waste, accounts for significant amounts of toxic waste in landfills. Items such as electronics, fluorescent bulbs and tubes, paints, pesticides, cleaning products, old medications and other chemicals are illegal to put in the garbage or pour down a drain or gutter because they contaminate our soil, drinking water and air.
DROP OFF

The Recology San Bruno Transfer Station accepts the following types of household hazardous waste (accepted from San Bruno residents only;
photo ID's required):
Water-based paint (latex)
Oil-based paint
Motor oil and filters
Anti-freeze
(a five-gallon limit applies on each of the above items)
Car batteries
Household batteries
Fluorescent Tubes
The San Mateo County Household Hazardous Waste Program accepts HHW at weekly collection events via appointment. Accepted items include, but are not limited to:
Solvents
Household cleaners
Paint thinner
Pesticides and garden chemicals
Mercury containing thermometers and thermostats
Propane tanks and outdoor cooking fluids
Automotive chemicals
Pool chemicals
Art and hobby supplies
BATTERIES
MEDICATIONS
PAINT
SHARPS
BATTERIES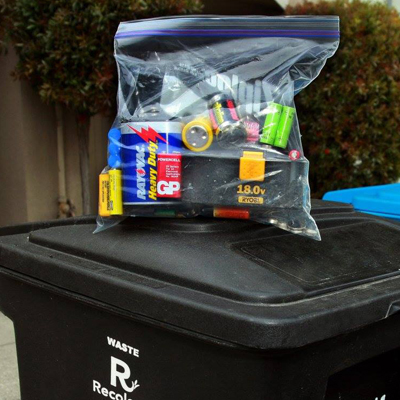 Curbside Battery Collection
Put household batteries (e.g. rechargeable, alkaline, button) inside a clear, tightly sealed plastic bag, and place on top of your closed garbage cart on collection day.
Apartment Battery Collection
Check to see if your building has a designated area for battery collection in your building. If you don't see one in a shared location, contact your property manager to request a collection.
Property Managers
Establish a centrally located collection container at your property – a lobby, multi-use room, mail room or clubhouse – for residents to place their bagged batteries. When you're ready to schedule a collection, place them all in a sealed plastic bag and leave in the mutually determined collection location.
You may also place cell phones in the clear, sealed plastic bag along with batteries.
Drop Off
Residents can drop off batteries at San Bruno Transfer Station.
For safety, please tape over the contact points of each lithium battery. Look for "Lithium" or "Li" (most button and rechargeable batteries).
MEDICATIONS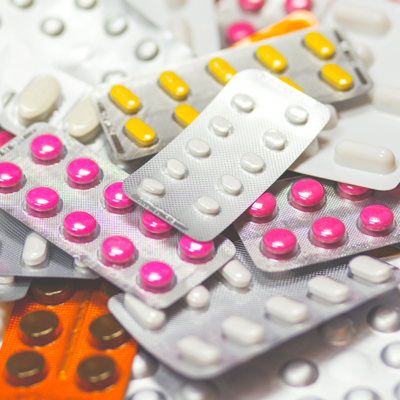 When medications are disposed of in the trash or down the drain, they can end up in the wrong hands, or in our soils and waterways.  Waste water treatment facilities are not properly equipped to remove medicinal substances from the water.  The result?  A wide range of pharmaceuticals have been found in our rivers and lakes.
Drop Off
We do not handle medications. Drop off medications for safe handling at any San Bruno police station and select pharmacies.
PAINT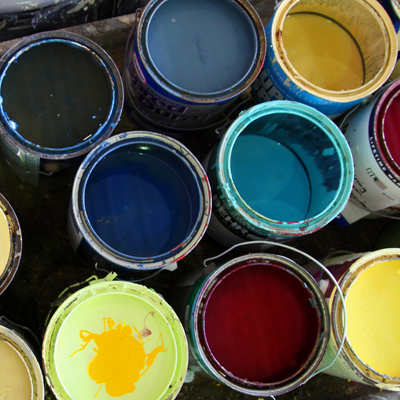 Drop Off
PaintCare offers take-back programs at no charge. Find a location to drop off interior and exterior paints, primers, thinners, and solvents.  You may also drop off paint at the San Bruno Transfer Station.
SHARPS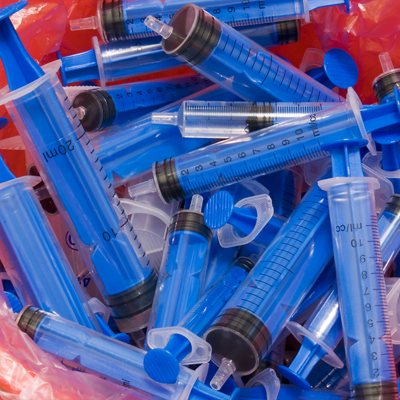 Residents with medical conditions requiring the use of hypodermic needles are required to arrange for proper disposal. California law prohibits the disposal of "sharps waste" in trash or recycling containers.
Home generated sharps waste includes: Hypodermic needles, pen needles, syringes, lancets, and other devices that are used to penetrate the skin for medical purposes.
Drop off
Recology San Bruno does not handle sharps. Place home-generated sharps waste in biohazard containers (available for purchase at local pharmacies and some office supply stores) and contact your health care provider, local pharmacies, hospitals or clinics to ask if they offer a collection program.
Mail-Back Service
Check out CalRecycle's sharps waste mail-back services.
RESOURCES
CA Integrated Waste Management Board Information Line
800.553.2962
Department of Toxic Substances Control (to report hazardous waste violations only)
Poison Control Center
800.876.4766
California Poison Action Line
800.222.1222
ASPCA (Animal Poison Control Hotline)
888.426.4435