Hazardous Waste
It is illegal to put items such as electronics, batteries, fluorescent bulbs, pesticides, and other chemicals in any of your bins. These are items are not recyclable, compostable, nor allowed in our landfills. Paint, cleaning products, fertilizers and pesticides can create safety and environmental hazards if not disposed of properly. Please do not place hazardous waste IN ANY CART.
DROP OFF
The Clatsop County Household Hazardous Waste Program offers free disposal of toxic, flammable and corrosive materials at its new HHW collection facility in Astoria.The facility is located at 1789 Williamsport Road, next to the Astoria Transfer Station. For more information, please visit Clatsop County Environmental Health or call (503) 325-8500.
Please keep hazardous waste in original containers; do not mix chemicals, and load items securely in your vehicle away from passengers and pets. No ammunition, fireworks or explosives (contact your local police for disposal), radioactive materials such as smoke detectors (contact us for information on disposing of these items; most companies offer mail-back programs), medical waste or sharps.

MOTOR OIL

MEDICATIONS
SHARPS
PAINT
Motor Oil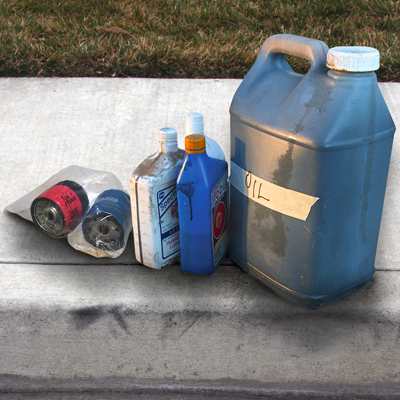 Curbside Collection*
Just one quart of motor oil that is disposed of improperly can contaminate up to 2 million gallons of fresh water.
Use clear or semi-transparent plastic one-gallon containers to recycle used motor oil, such as a milk jug (reusing new quart or gallon oil containers ok). Once you've tightly secured the lid, place the container next to your recycling cart for pickup on your regular collection day.
*Available only in areas with curbside recycling. 
Medications
Drop off
When medications are disposed of in the trash or down the drain, they can find their way into our waterways and negatively impact frogs, fish and other aquatic life.
Confidential drop-off containers are available at most Clatsop County Police Departments. Please call ahead to verify.
Sharps
We offer three different sizes of approved sharps containers: 4.7 quart, 10 quart, 23 quart. Home generated sharps waste cannot be thrown in the regular trash. Please arrange for safe, efficient disposal of medical waste and sharps by calling our customer service team.
Drop off
You may drop off your sharps containers at our offices below. Please give us a call for safe disposal rates.
Warrenton Office:
Recology Western Oregon
2320 SE 12th Place
Warrenton, OR 97146
Hours: Monday – Friday, 8am to 4pm, CLOSED from 12pm – 1pm
What are Sharps?
Needles: hollow needles used to inject medication under the skin.
Lancets: also called "finger stick" devices – instruments with a short, two edged blade used to get drops of blood for testing.
Auto-injectors: (include epinephrine & insulin pins) – syringes that are pre-filled with medication and are designed to be self-injected into the body.
Infusion sets: tubing systems with a needle used to deliver drugs to the body.
Connection needles/sets: needles that connect to a tube that are used to push fluid into or remove fluid from the body.
What is NOT a Sharp?
Syringes: plastic tube devices used to transfer medication into or withdraw fluid from the body. These do not have needles or sharp points on them.
Medications: contact our office for the proper disposal of unused medications
Medical tubing: Oxygen tubing, IV tubing, and other types of tubing can be thrown away in the normal garbage.
Do's and Don'ts for for Handling Sharps
DO be careful when handling sharps!
DO place lid tightly on the container prior to disposal.
DO place needles and other sharps into container.
DO keep out of reach of children and pets.
DO keep the container in a clean, cool, dry place.
DO NOT place your sharps container into the garbage or at the street for collection. Medical waste is collected by appointment only in our special medical waste truck.
DO NOT overfill the sharps container. Fill to the full line indicated on the outside of the container.
DO NOT place medications in the sharps container.
DO NOT close the lid tightly until ready to dispose of container.
PAINT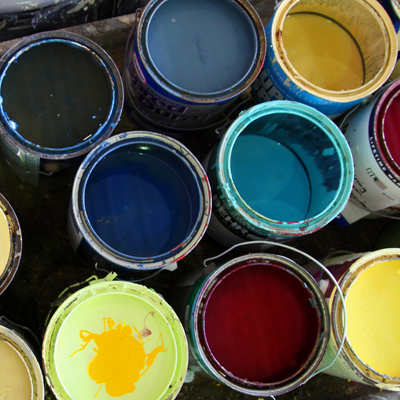 Drop Off
PaintCare offers take-back programs at no charge. Find a location to drop off interior and exterior paints, primers, thinners, and solvents.