Identifying recyclables can be easy! Recology San Benito County provides resources and guidelines outlining which materials belong in which bin.  Find out more about how you can reduce contamination and Recycle Right!
---
Learn What's Recyclable!
There are five main categories of recyclable material: paper, cardboard, metal, glass, and plastic containers. To ensure that you are placing ONLY recyclable materials in your blue bin, review your San Benito County Recycle Guide, use our WhatBin search tool, or call our Customer Service Teams at 831.636.7500.
---
What is contamination?
Contamination is considered any material placed in the recycling bin that is not accepted in curbside recycling programs.
---
Properly Sort Your Recyclables
When sorting materials properly, there are three simple rules: EMPTY, CLEAN, AND DRY. Empty any residual food or liquid from a bottle or container, clean the product by quickly rinsing or scraping off debris, and shake the container to remove moisture before tossing it in your recycling bin.
---
Reducing Recycling Contamination
Recent international restrictions like China's National Sword policy have resulted in global efforts to reduce recycling contamination.  These new standards for cleaner recycling are impacting recycling efforts throughout the United States and require a renewed focus on how and what to recycle.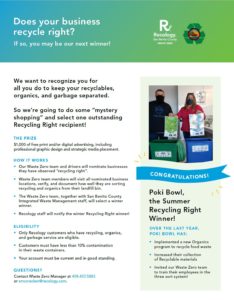 Become our next Recycling Right Recipient! Learn more by accessing our Recycling Right Recipient Flyer
Learn more about how you can be Better at the Bin by watching the video below!