The Recology Store is your neighborhood destination where you can Shop, Learn, and Recycle!
The Recology Store Shoreline
15235 Aurora Ave N, #102

Shoreline, WA
206.417.3877
[email protected]
Follow us on Instagram or Facebook for the latest updates.
Hours

Tuesday – Sunday: 10am – 5pm
---
SHOP
The Recology Store offers a wide variety of products that support a zero-waste lifestyle. We are committed to offering goods that are designed to reduce your waste by replacing single-use items with reusable ones, are made from recycled or upcycled materials, or provide education on sustainability.
Whether you're looking for gifts, housewares, accessories, or a refill station to stock up on cleaning and self-care products, The Recology Store is rethinking retail!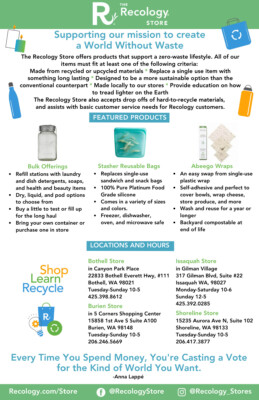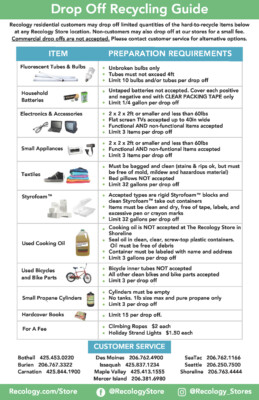 RECYCLE
In keeping with our goal to minimize materials sent to landfills, The Recology Store accepts for recycling items that cannot be put into curbside recycling cart. These special items include: CFL light bulbs, household batteries, old textiles, hard-cover books, small electronics and appliances, block Styrofoam™, and bicycles.
If we pick up at your house, you can drop off at our store! Recology King County residential customers may drop off limited quantities of the hard-to-recycle items listed above at any Recology Store location. Non-customers may also drop off at the Recology Store for a minimal fee depending on material. See our list for an overview of fees here or call our store for more details.
View The Recology Store drop-off guide to find out what you can recycle!
LEARN
The Recology Store is staffed by a team of recycling experts who are available to provide in-person Customer Service support for our customers. Not sure which materials are supposed to go in the recycling or organics carts? Have an item that you think could be recycled or reused but you're not sure what to do with it?  Looking for ways to reduce your waste in your daily life but don't know how to get started? Want to pay your Recology King County bill in person? The staff at The Recology Store can help you with all of these questions and more.
Questions? Contact The Recology Store at [email protected]