Household hazardous wastes are any materials discarded from homes that may cause a human or environmental hazard when disposed of improperly, these wastes can cause serious threats to humans, wildlife and the environment.
Hazardous waste can be one or more of the following: toxic, flammable, corrosive, and reactive (we encourage you to consider non-toxic alternatives for some of the products you use).
DROP OFF
Residents may drop off accepted items at the Recology Vacaville Solano Recycling Facility Household Hazardous Waste Facility every Saturday from 9:00 AM – 3:00 PM. Due to US Department of Transportation regulations, the facility can only accept up to 15 gal. or 125 lbs. of hazardous material in 5 gallon containers or smaller per visit.
Businesses may drop off hazardous waste at the facility by appointment only. Please contact:
ACT Enviro
Business Line:
Carmen Zuniga
1-866-333-9222, option 4
Online appointment request portal:
https://www.actenviro.com/hhw-small-business-quote/
You must provide photo id and proof of residency (driver's license or a Recology bill).
Accepted items include:
Aerosol Cans
Antifreeze
Automotive batteries
Bleach
Brake fluid
Caulking
Chlorine
Cooking oil
Drain cleaner
Fertilizer
Fire Extinguishers
Floor stripper
Fluorescent lamps
Garden chemicals
Gasoline
Glues
Household batteries *

Household cleaners
Hydraulic fluid
Insect sprays
Mercury Waste
Motor oil
Oily rags
Paint products
Paint stripper
Paint thinner
Polishes
Pool chemicals
Pressurized cylinders
Large propane (5 gal)
Small propane (1 lb)
Freon cylinders
Helium cylinders
Oxygen cylinders

Printer/toner cartridges
Rust remover
Sharps in Containers
Smoke detectors
Thermometers
Tile cleaners
Tile remover
Transmission fluid
Used oil filters
Waxes
Weed killers
Windshield washer fluid
Wood preservative
Unaccepted items include:
Ammunition
Appliances
Asbestos
Commercial chemicals

Explosives
Medical waste
Medicine

Radioactive materials
Tires
Trash

MOTOR OIL

MEDICATIONS
SHARPS
BATTERIES
Motor Oil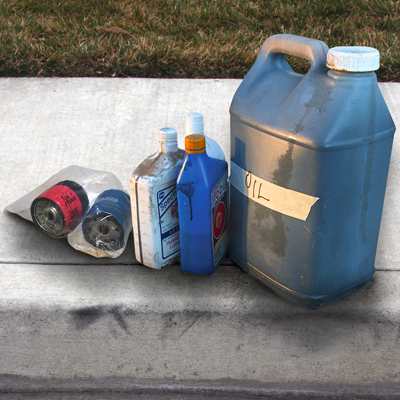 Recovering oil is extremely important, since it clogs our City's water systems and can pose a threat to piping.
Curbside
Place oil and filters out at curbside. Oil and filters must be in containers provided by Recology or they will not be collected. Call to receive free oil jugs and filter bags. Place jugs and filters out at the curb next to your blue recycle cart so that they are clearly visible to your driver. A new oil jug will be left at the curb for your next oil change.
Medications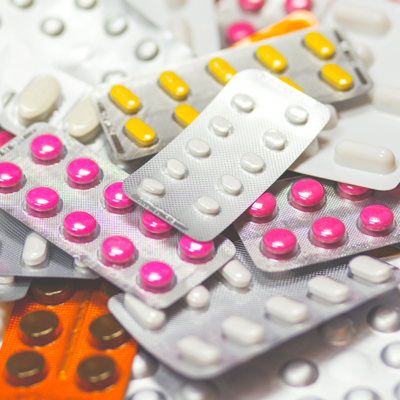 When medications are disposed of in the trash or down the drain, they can find their way into our waterways and negatively impact frogs, fish and other aquatic life.
Drop off
Drop off medications for safe handling at most police stations, Walgreens, and select pharmacies.
Sharps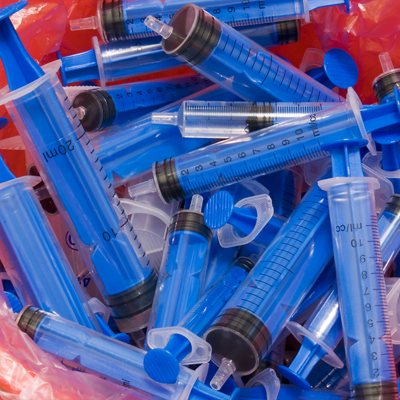 All sharps waste must be transported to a collection center in an approved sharps container. Home-generated sharps waste includes hypodermic needles, syringes and lancets that are used for medical purposes.
Drop off
Place home-generated sharps waste in biohazard containers. Biohazard containers are available for purchase at local pharmacies and some office supply stores.
We also accept sharps in approved biohazard containers can at the Recology Vacaville Solano Recycling Center on Saturdays from 9:00am to 3:00pm.
Contact your health care provider, local pharmacies, hospitals or clinics to ask if they offer a collection program.
Mail-Back Service:
Visit CalRecycle for a list of companies that are authorized to provide sharps waste mail-back services in California.
Batteries
Curbside Battery Collection
Put household batteries (e.g. rechargeable, alkaline, button) inside a tightly sealed plastic bag, and place on top of your closed blue recycle cart for collection on your regular service day.
Nickel-cadmium batteries must be labeled "nickel-cadmium" or "Ni-Cd", with the phrase "BATTERY MUST BE RECYCLED OR DISPOSED OF PROPERLY."
Rechargeable consumer products containing non-removable Ni-Cd batteries must be labeled with the phrase "CONTAINS NICKEL-CADMIUM BATTERY. BATTERY MUST BE RECYCLED OR DISPOSED OF PROPERLY."
Drop Off
Residents can also drop off  the Recology Vacaville Solano Recycling Facility.
For safety, please tape over the contact points of each lithium battery. Look for "Lithium" or "Li" (most button and rechargeable batteries).