Universal and electronic waste, such as fluorescent tubes and consumer batteries, are prohibited from the trash. Universal waste contains a variety of toxic components like lead, cadmium and mercury, arsenic and flame retardants, and when dumped in a landfill, these materials can contaminate the soil and ground water, thus impacting surrounding areas. Small businesses can learn more about the small business drop off program.
Electronic waste includes: batteries, fluorescent bulbs, computers, monitors, cords, phones, TVs, VCRs, DVD players, stereos, microwave ovens, or iPods.
---
CURBSIDE
Residents may schedule a Bulky Item Collection at no cost.
---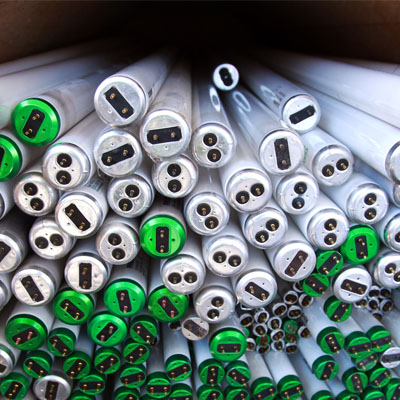 DROP OFF
Pacifica residents may drop off items are the Recology of the Coast Recycling Yard, or visit RecycleWorks or call (888) 442-2666 to find your nearest location.
GreenCitizen also recycles televisions, computers, printers, computer peripherals and a wide variety of other electronics. Everything is recycled in the United States, so there is no shipping of electronic waste overseas, and they have the e-steward certification! See a full list of what Green Citizen recycles.
Many manufacturers also take back their old equipment for reuse and recycling:
Additional Resources:
California Department of Toxic Substances Control, eRecycle
---
COMMERCIAL
Very Small Quantity Generator (VSQG) Program
If your business generates a small amount of hazardous waste (less than 220 pounds per month, or 27 gallons), you may dispose of it through the Very Small Quantity Generators (VSQG) Program by contacting our hazardous waste contractor, Philip Services Co. Please call (877) 748-3040 for more information.
You must have your company's EPA ID number and an itemized inventory of the waste you wish to dispose of ready.
Disposal Rates:
The disposal cost for fluorescent lamps is $0.12 per foot, and for batteries is $1.00 per pound, with a $30 service fee.
EPA ID Numbers:
To obtain an EPA ID number, the business must fill out DTSC's Form 1358.