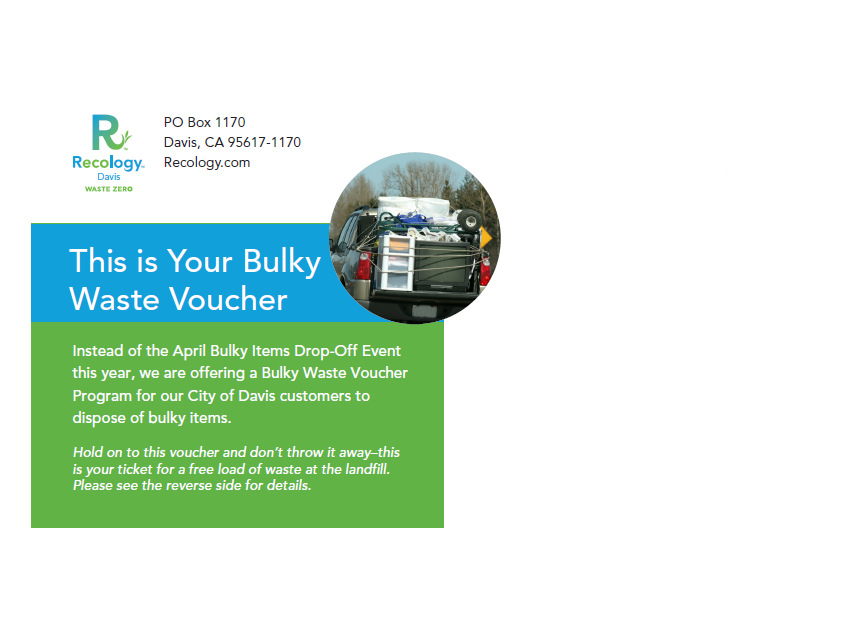 Instead of the April Bulky Items Drop-Off Event this year, we are offering a Bulky Waste Voucher Program for our City of Davis customers to dispose of bulky items. One voucher will be issued per the City of Davis household. Hold on to your voucher when you receive it in the mail and don't throw it away—this is your ticket for a free load of waste at the landfill! You can expect to receive your voucher during the last week in May.

Please note, no commercial haulers or business materials are accepted.
Residents must bring vouchers and show proof of residency (e.g. ID, utility bill). Max drop off: full-size pickup truck bed, full-sized van, or small trailer less than 3ft high and 8ft long. Additional items are accepted for a fee. 
Large appliances
Limit 2 freon units (e.g. refrigerators, freezers, AC units)
Limit 4 regular units (e.g. stoves, water heaters, dishwashers, etc.)

Toilets, sinks, plumbing fixtures

Scrap metal, wood scraps

Furniture, mattresses, textiles

Electronics (e.g. microwaves, TVs)

Yard waste

Hazardous waste (only Friday and Saturday)
Business waste
Soil, sod, dirt, concrete, asphalt
Car and truck tires
Commercial construction debris
---
*Voucher is Valid: June 1 – September 30, 2023*
YOLO COUNTY LANDFILL
44090 County Road 28H Woodland, CA 95776
Monday – Saturday from 6:30 AM – 4 PM
Sunday from 8 AM – 4 PM
530.666.8729
For customers subscribed to our assisted service, call Recology Davis at 530.756.4646 to schedule an appointment. Size and quantity limits on this voucher apply. Additional charges may apply.