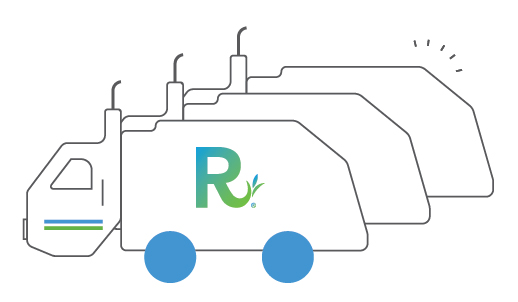 Help keep yourself and Recology Arcata employee owners safe by following the guidance below. 
STOP & THINK

What goes where? Sorting properly is critical to keeping recyclable material out of the landfill.  Green waste materials go in the compost bin, while cardboard, paper, glass, metal, and plastic containers should go in the recycling.

BREAK IT DOWN

Optimize space in your blue bin and keep recyclables loose (not bagged). Break down cardboard boxes and do what you can to save space in your cart to make sure it's not overflowing.

BAG IT & BIN IT

Do your part to keep drivers safe. Trash should be secured in bags to prevent materials from blowing onto the street.  Make sure all trash fits inside your curbside bin.

SAVE YOUR DONATIONS

Put reusable items aside for now.  Once Shelter-In-Place restrictions are lifted, donate reusable goods to a local charity, non-profit, family or friend. They will appreciate the donation, and it won't go to the landfill. A win-win!

WASH YOUR HANDS

Frequently! Washing your hands before and after rolling your bins to the curb will help keep both you and your driver safe. You can also wipe down the handles and lids of your carts with a sanitizing wipe to further protect yourself and drivers.

ROLL IT OUT

Place your curbside bins out early. Drivers may arrive earlier or later due to temporary routing changes.  Remember to leave space between your bins to allow our automated trucks to collect bins effectively.

SMILE & WAVE

Drivers need to socially distance, too. Please maintain the advised 6 feet of social distance between you and your driver. But that doesn't mean you can't say hi — a friendly wave is always appreciated!